Disclaimer! Warning this is to be used as a guide and I will not be held responsible if anything goes wrong or you break anything. DO THIS AT YOUR OWN RISK!

It took 2.5 hours when it was suppose to take 45mins (yes i was extra careful lol). Here is some teaser pics.
Here's the old muffler and the new muffler next to each other. What a difference!
Here's a close up of the new muffler.
PS. I bought this for $363.63 plus $33 for shipping (when purchased 09-09-2009)
OK here are the final pics and sound clips!
and number 2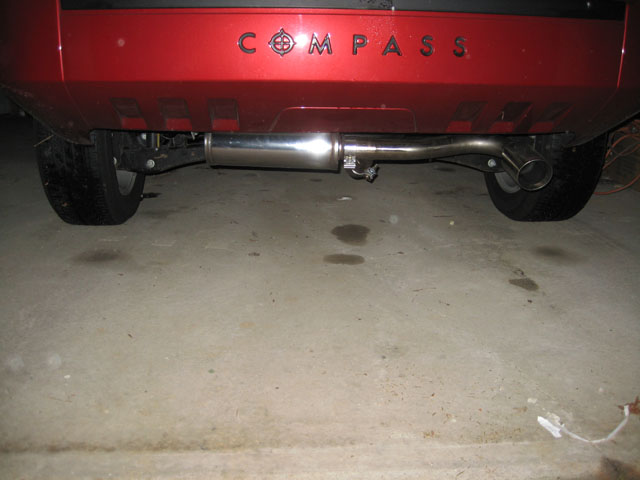 sound clip number one is a windows media file recoded off a laptop (use windows media player to play it)
http://w4rh4wk.net/misc/jeepexwin.wma
sound clip number two is a apple .m4a file recorded off an iphone. (Apple's quicktime or itunes will open this one)
http://w4rh4wk.net/misc/jeepexapp.m4a
I was worried that it would sound like those honda civics with the fart cans on them but its not even close. The recordings are ALOT louder than the actual exhaust. Truth be told, the K&N air intake is louder then the magnaflow muffler LOL. Its a low rumble the entire time you drive it (slightly louder when you floor it but still low enough). As far as more Horse power, it feels a little bit stronger going up hill and flooring the gas... but nothing to make me do the dance of joy.
Update: Since i've installed the muffler, here are the average MPG results. Before the upgrade i would get 25.5-27.9 MPG. Week one (i was flooring it alot) with mixed highway and city travel i got 27.03. Week two (same mixed highway/city driving) with alot less flooring of the car (but there was a couple of times where i had to kick it into high gear) i got 28.14 MPG! I got the car to break the 28 MPG barrier! Now this week im going to try and refrain driving like a nut just to see what ill get this time around.